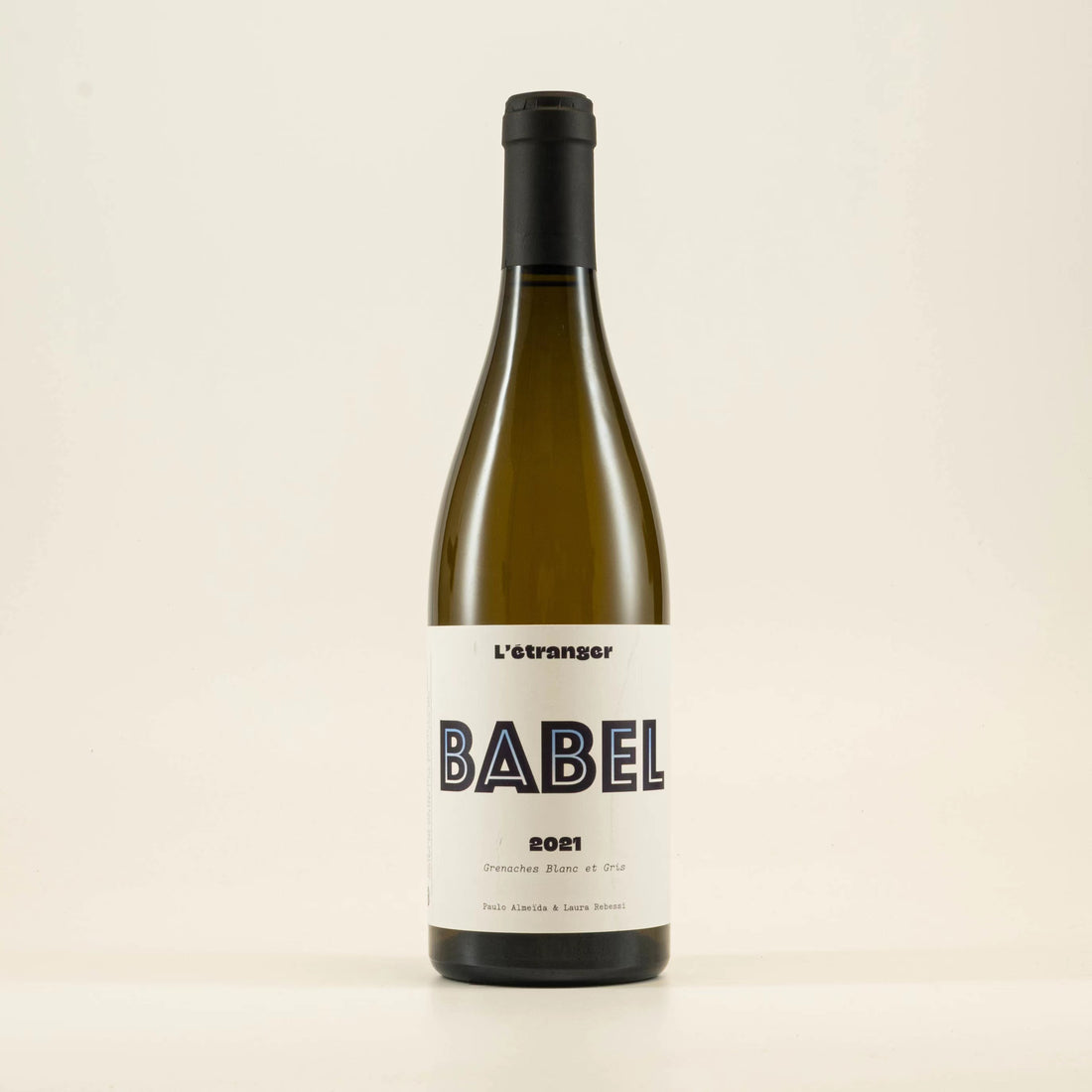 Named after the movie Babel, a film that speaks of diversity, of difference, and also of harmony and reconciliation. 

The plot where this wine comes from is a very old plot, mostly Grenache Blanc and Gris, scattered amongst these vines were other grape varieties: Macabeu, Carignan, Clairette, Grenache noir, among others. It is also a fairly complex terroir, with a geological fault well in the middle the result is a complex terroir of limestone, marl and shale.

Apart from the natural circumstances, coincidentally, for our first harvest, in 2019, our friends from all corners of the world making up 7 different nationalities came to give them a hand. In the cellar, the wines were divided into 3 containers for aging: 3 barrels of 228L, a half-muid of 500, and a stainless steel tank which provides for the complexity in the wine. At the time of blending the wines, it felt as though everything is coming together again. 

For Laura and Paulo, Babel reflects all this complexity, in the vineyard and in the cellar.


A total of 3500 bottles and 120 Magnums were made in 2021.
Brazilian duo Paulo and Laura started the L'étranger which roughly translates to the foreigner in 2018 with 1.7 ha of vines around Calce in Roussillon comprising of Muscat Petit Grain, Maccabeu, Grenache Blanc and Grenache Gris after decades of working in big enterprises. Their vines are planted atop a geographical fault line giving rise to complex terroir of limestone, marl and shale. Since then they have acquired various small parcels of vines including abandoned vines.

 As big fans of motion pictures, all of their wines are named after movies.
Region: Roussillon, France
Appellation: Vin de France
Grape: Grenache Blanc, Grenache Gris
Terroir: Limestone, marl limestone and shale
Type: Dry White
Style: Medium bodied
Volume: 0.75L
Due to the sensitive nature of low intervention wines, in general all purchases are final, non-returnable, non-exchangeable and non-refundable.

We offer free delivery to one Singapore address per order for orders above $128. For orders below $128, a delivery charge of $15 will be applied automatically at checkout.

All orders will be dispatched the next working day between 12 to 8pm after we have received the payments. For time sensitive orders please do not hesitate to get in touch with us at hello@racinewinesco.com or +65 8777 0160. We will do our best to accommodate your request.